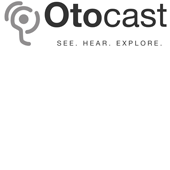 Tap Into Otocast, Your Friendly AR-enabled Tour Guide
When you're in a new place, such as for a conference or work, wouldn't it be nice to have a local tour guide? That's what Eric Feinstein thought when he created Otocast, the platform for audio guides with over 3,500 points of interest in North America and Europe. Now, the company has integrated Bose AR to provide a seamless, hands-free experience.
Rather than pull your phone out at every landmark, the app alerts you based on sensors in your Bose AR device, plus GPS and other signals from the phone. You can navigate within an audio tour by using an intuitive tap of your Bose Frames or AR headphones. Using spatial audio, Otocast naturally guides you from point to point.
"What intrigued me about it was the hands free aspect of it," Feinstein said. "I really wanted the app to be your friend who knows more than you."
That expertise shows in the people Otocast uses to provide the audio narratives. Public art is often introduced by the artists themselves. A Boston tour includes narration from former Massachusetts Governor Michael Dukakis.
Otocast partners with local communities to show interesting sights that go beyond the typical tourist destination. When the company joined the Bose AR team at SXSW, Feinstein quickly created a tour in a nearby neighborhood. But he was also able to send conference-goers to 81 other points of interest, including North Congress and Old West Austin, thanks to a partnership with Preservation Austin.
Once visitors are within a tour, they can wander as they normally would through an exhibit or neighborhood. When nearing a new point of interest, they'll hear a sound from the appropriate direction. Using the phone's GPS and the Bose AR magnetometer, Otocast can use the Bose AR SDK to play a sound from the direction of the next spot. When they double-tap their Bose AR device, the next narration will start.
"Look at the Bose AR SDK as ingredients and see what matches your taste. Figure out what the technology has to offer and see if you can make it fit your application." Eric Feinstein, Otocast
Integrating Otocast with the Bose AR SDK took less than a month, from idea through approval on the app store. It uses a number of sensors available in Bose AR devices: an accelerator for head movement and location; gyroscope for head rotation; and a magnetometer for direction of the device in relation to true north. After some initial calibration trials, Otocast was able to create accurate directional sound. "A lot of the people who tried it said, 'how did you do that?'" Feinstein said.
What's Next?
"I really enjoy the way that Bose AR adds to the experience of Otocast," Feinstein said. "I would love to play around with some more ideas." There's more Otocast would like to do with where the user is looking and creating soundtracks (for example, playing music during a music tour).
Otocast will continue to add new tours, including an upcoming partnership with Antenna International, global leader in creating story-driven content for cultural sites. Antenna's expert content will make even more narrations available for both traditional and Bose AR users.
Feinstein would also like to take spatial audio to the next step. In addition to directional sounds that currently exist in Otocast, Feinstein would like to pin audio into three dimensional space, so you can walk around a sound.
These sort of immersive experiences would also lend themselves to gaming. Currently Otocast lets its partners create scavenger hunts by visiting certain locations. However, Feinstein would like to go deeper: "I'd like to add more of a gaming aspect to it, like an escape room in the city."
Your own apps can use the same Bose AR features, using platform-specific Bose AR SDKs. Build in audio experiences and intuitive user input. In addition to tap and double-tap, the Bose AR SDK supports head nod and shake for yes/no input. Or, access the sensor streams directly and create your own gestures.
Get inspired by Otocast by downloading it here or here. Find out more about Otocast at their website or follow Otocast on Facebook.