A plane flies overhead. Dogs bark in the distance. You hear the sound of footsteps, but you're sitting alone wearing your Bose Frames. Audiojack is an audio movie, with sounds edited together to tell a story. Using Bose AR, Audiojack lets the listener change the story, with their head as the controller.
Conceived by television producer David Tobin, Audiojack serves multiple purposes with its audio movies. In addition to entertainment, Tobin has used the app in education, senior care, and as an alternative to meditation. What previously were static stories—the same sequence of sounds each time—can now have cue points to change the story based on head movement tracked by Bose AR.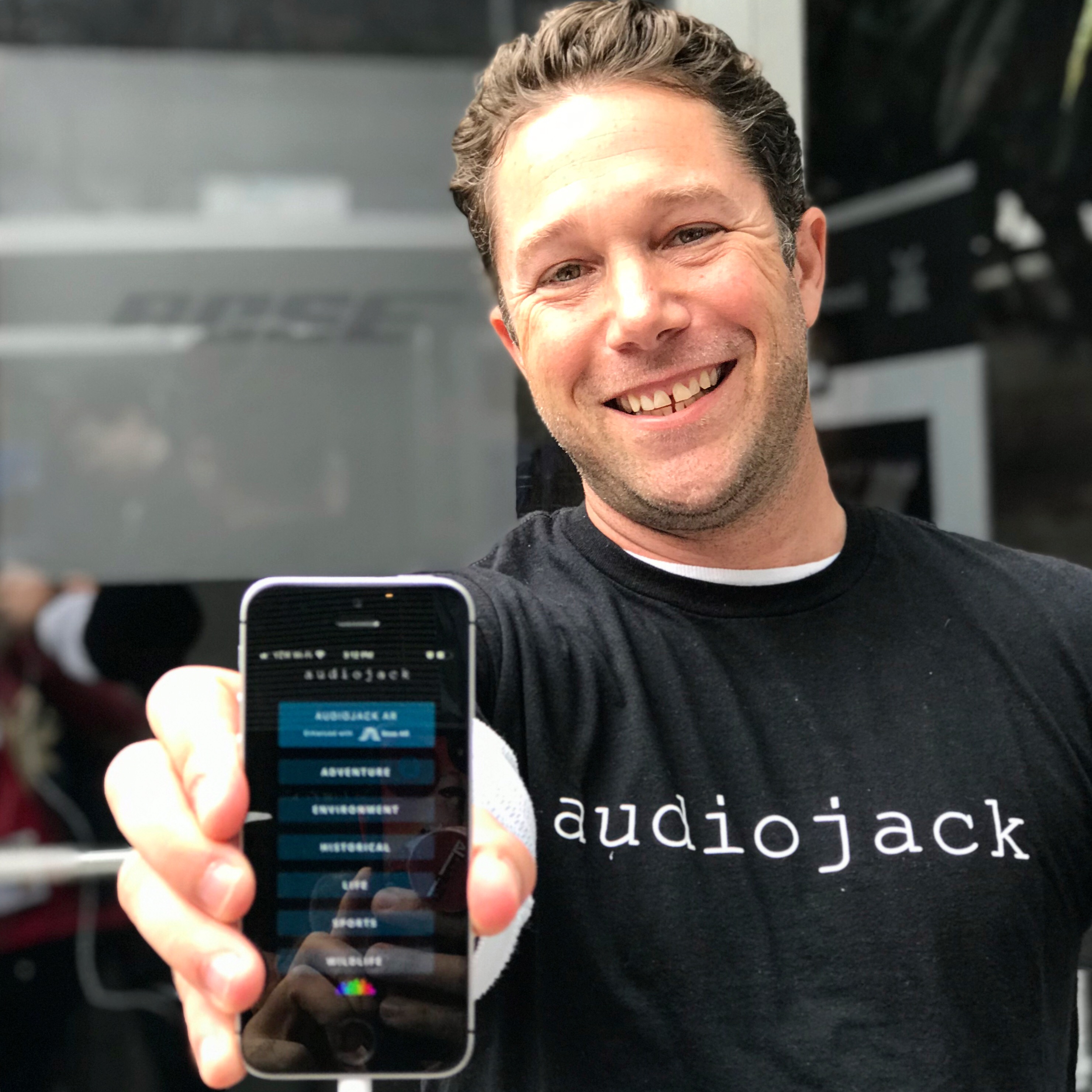 "If there's a significant moment in the story and you turn your head to check it out, the story will branch off," Tobin said. "Instead of it being one possible story in an Audiojack, there are 20 different combinations."
This is just the first-way Audiojack plans to use AR technology. Tobin and team want to use all the inputs and outputs to provide an immersive experience.
"Push all the limits you think you have. Give it everything. That's the only way we're going to keep innovating." David Tobin, Audiojack
In order to access the Bose AR features, Audiojack integrated with the Bose AR SDK. In addition to audio features, Tobin's team implemented gestures and tracked head movement. "The Bose AR SDK has been phenomenal," Tobin said. "Easily one of the best experiences I've had with development. "
The seamless interaction is part of Audiojack's plan to naturally immerse users in the story. "We want your hands free. And you might have to listen multiple times to figure out what's different," Tobin said.
There are countless ways to use the same Bose AR features in your own apps. In addition to three-dimensional head position, there are a number of ways to directly get user input. The SDK includes tap and double-tap interpretations pre-programmed. Or leave the user's hands out of it by using a head nod or shake for yes and no feedback.
What's Next?
Audiojack wants to include even more AR features into its app. From spatialized audio to pedometer and accelerator technology, the company will provide more ways to get involved in the story. Part of the expanding inputs will be graduating their 50 audio movies (or Audiojacks, as they call them) to be AR-enabled.
Learn more on the Audiojack website or download Audiojack today to get immersed into the world of Audio AR here and here.
There are a lot of possibilities within the Bose AR Platform to enhance your own applications. From more natural input mechanisms to fitness tracking and more, you can create new experiences for millions of users. Build Bose AR intelligence into your next mobile project.